You never want to rank up there as a mother with Mommie Dearest,  Mean Mom, or Cinderella's stepmother Lady Tremaine, where your child's only hope for a ride to the prom is a fairy godmother and a pumpkin.  I have tried everything to get my kids to like me from doing  a break dance headspin, to faking a MineCraft addiction.  "Where's dinner?" my  starving daughter asks as I play  one of the Mindcraft games on the computer.  "Sorry," I say, "too busy with the hunger games to feed you."
 One of my favorite TV stars, Kelly Ripa, doesn't think being your child's friend is a good idea. She says she doesn't care if her  teenage daughter Lola doesn't like her.  She's a "Mom" and not a "friend."  The co-host of  Live with Kelly  and Michael said on The Wendy Williams Show that her daughter lost cell phone privileges for texting on the phone when she was supposed to be studying  Spanish.  I know Ripa is right but I can't help myself.  I want to BFF (Best Friends Forever) with  my kids.   But even if it's bad parenting, these efforts have gone in vain.   My kids  think I'm uncool.   They don't even want to be seen with me.  They  point to the fact that I  wear a bubble cap in the pool,  have a flip phone, and badly need  a tummy tuck.   Ouch!!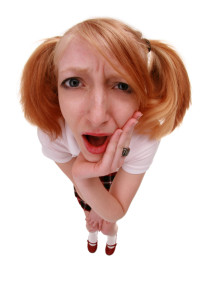 So why do I want to be a friend so badly?  This "friend" culture is fueled by social media.  My kids have threatened to even "defriend" me on Facebook when I post something they don't like.   My husband  says the kids are walking all over me because I'm trying to be a friend.  "Everyone knows that nice guys finish last," he scoffs.
"Okay, no more 'Mrs. Nice Guy' for me," I say.  Yes, I'm going to turn a new leaf.  I'm going to lay down the law and set limits.  I'm not saying I'm going to push the envelope too far.   I'm just saying no more sweet Aunt Em to cry out for when evil flying monkeys abduct you.  No more Mary Poppins with a spoon full of sugar to make the medicine go down.   So when Ebola zombies rise from the dead in Hong Kong, and King Kong escapes at Universal Studios, who will my youngest daughter call to save her?  Will Lassie save her?  The Lone Ranger and Tonto?  Ghostbusters?  Nobody because I  shut off her cell phone when she was texting Lola and wouldn't do her Spanish homework.